Two album launch shows have been announced:
The launch show for Silent Dirge's Intrinsic.  Dubbed "Helloween Night".  Show Lineup: Silent Dirge, XENO, Malefic, Cryptic Wisdom, Octavian, and Bio-Genesis
Venue: Wargore Studios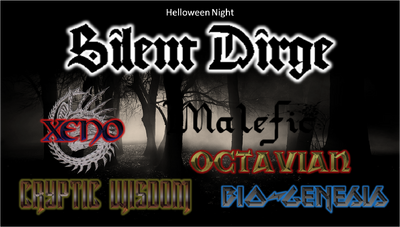 The launch show for Empire of Entrails's Progression to Bloodlust.  Lineup: Empire of Entrails, Beachhead, Entrenched, and Vile Residuum.  Morbid Clown might also be making an appearance.
Venue: TBA
Ad blocker interference detected!
Wikia is a free-to-use site that makes money from advertising. We have a modified experience for viewers using ad blockers

Wikia is not accessible if you've made further modifications. Remove the custom ad blocker rule(s) and the page will load as expected.